Thai Food Catering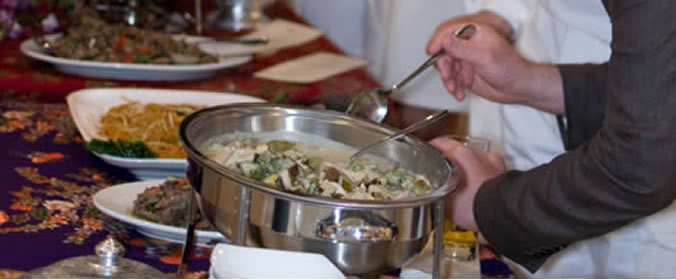 We provide high quality authentic Thai food catering services for parties and events.

PLEASE NOTE THAT WE ARE NOT PROVIDING CATERING SERVICES CURRENTLY DUE TO COVID-19 RESTRICTIONS
What type of events do you cater for?
We offer a Thai food catering service for events for 25-100 guests. Unfortunately we don't cater for weddings.
What menus / dishes can I choose?
We don't have any set menus so that you have the complete freedom of choosing the dishes you would like from our catering menu. We are also very happy to provide recommendations on menu selections.
Can you cater for different dietary requirements?
We are very used to handling different dietary requirements and we can adjust the menu accordingly. Thai cuisine is very adaptable and we can provide vegetarian, vegan and gluten free options, and halal meat if required.
What services do you provide?
We normally provide a full service, where our team will come to your venue to finish the cooking on site and then we will serve and clear the food for you. Depending on your location, in some cases it may be an option to deliver the food to you and not use your kitchen, if preferred.
What's included and how much does it cost?
We have given details of our most popular package below, but if you would like something different, it's very flexible what we can provide for you. If you have a specific budget, please let us know and we can let you know what the options are.
Menu and service
Canapés / starters – 3 choices – normally served to guests while they have drinks, or can be set up as a buffet
Main courses – 3 choices, served with Thai jasmine fragrant rice – served as a buffet by our staff
Cost and what's included
£25 per head (minimum of 25 guests) which includes the menu above and:
Our staff to serve and clear the canapés and main courses
Serving dishes for canapés, warming dishes and serving cutlery for main courses
What kitchen facilities will you need?
We will need access to a kitchen, leaving it fully cleaned and tidy when we leave.
Do you provide crockery, cutlery etc. for guests?
We don't provide tablecloths, napkins, crockery, cutlery, glassware. Depending on the scale of the event, we can use your own equipment or recommend a hire company in your area. We can also recommend an excellent online supplier of environmentally friendly disposable bamboo and palm products which look great and save washing up!
What areas do you cover?
We provide catering services in Hampshire, Surrey and South West London, within an hour of our location (GU10 4LB). A travel fee is applied for locations more than 30 minutes' drive from us.
Next steps
Please
contact us
and we can discuss everything with you and give you a quote.