DofE Online Thai Cooking Course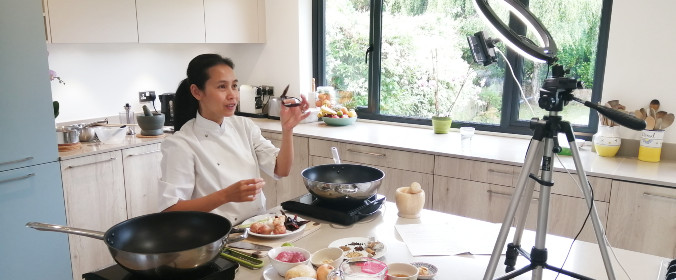 We are offering a fun and informative 12 week online cooking course that can be done as a DofE Skill and will also give your family some delicious Thai dishes to enjoy!

Even if you aren't doing your DofE, you can do this course to learn more about Thai food and expand your cooking repertoire.
How it works
The course is designed to develop a range of cooking skills and techniques in delicious Thai cuisine.
Each week you will get to cook a different recipe using our recipe sheets and demo videos which you will be sent. It's very flexible – you can decide when to watch the demos and cook, so it can fit around your schooling and other activities.
You will be fully supported by Jirapan (the founder of Paya Thai Cooking) and can email or WhatsApp her if you would like any help.
Dates and duration
The course is structured to be done over 12 weeks, cooking 1 dish per week. You can start at any time.
What's included
12 recipe / 12 week menu - Meat & Seafood or Vegetarian & Vegan
Demo videos for each recipe (each video is 10-15 mins), by Jirapan
Recipe sheets with ingredients list and cooking steps
Equipment list and where to buy ingredients information
Support via email / WhatsApp
Course sign off for DofE Award (if applicable)
Course completion certificate
Sample it now - here is Week 1's Recipe
Price
The course costs £65.
Menu
Sweet chilli sauce
Spring rolls
Dim Sum - pork / prawns / veggie
Thai spicy salad - beef / seafood / veggie
Coconut soup - chicken / prawns / veggie
Green curry paste
Green curry - chicken / seafood / veggie
Stir fry with ginger - chicken / prawns / vegan mince
Stir fry with cashew nuts - chicken / prawns / tofu
Pad Thai noodles - chicken / prawns / tofu
Egg / veggie fried rice
Mango with sweet sticky rice
Ingredients and equipment
When you book in you will receive recipe sheets with ingredients lists as well as a list of key equipment. Thai ingredients can be sourced at major supermarkets or online and most kitchens should already have the main equipment we need.
DofE activity log and course sign off
If you are doing the course for your DofE Award, all you will need to do is take a photo of each dish you cook and upload it to your eDofE and send it to us so we can sign off your DofE report. Even if you aren't doing DofE we'd love to see pictures of your cooking!
How to book
Step 1 - complete our Booking Form
Step 2 - pay for the course (£65) using our secure card payment site

Please contact us if you have any questions!

"My son is doing the DofE course at the moment and I just had to write and say everything has been delicious. Today's lunch of Thai beef salad was my favourite so far. He has never moaned about doing his cooking - because he loves the results, and so does the rest of the family. I would heartily recommend the cooking course for any interested teens - my son will for ever be able to cook these 12 dishes now, and hopefully it's a gateway into him exploring more international foods."