Online Thai Cooking Classes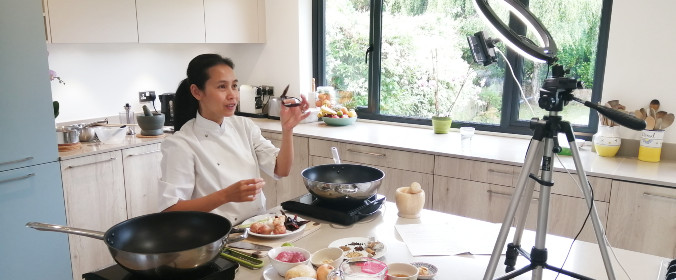 Join me for a virtual Thai cooking class and learn the secrets of authentic Thai food without needing to leave your home!
About the classes - approach and style
Classes are held using Zoom so that they can be fully interactive.
Each class covers learning one Thai dish and your class will start with an introduction to the dish, the ingredients and key flavours in Thai cooking - sweet, sour, salty and spicy.
We will cook step by step together so that I can guide you through each stage of preparation and cooking and there will be plenty of time to ask questions. I will send you a recipe in advance so that you can use it to make notes during the class if you would like to.
There is no need to have any previous experience, just a love of food and a willingness to experiment!
How many people can join the class and how much does it cost?
Classes can be on a 1 to 1 basis or for a group of friends / family / colleagues who would like to cook together, wherever in the world they are! A 1 to 1 class (1 Zoom connection) is £60 and group classes are £35 per Zoom connection.
When are classes are how long is each class?
Classes can be scheduled on weekdays or weekends and each class will last approximately 1 hour 15 minutes.
What dishes can be chosen?
Please see our menu for the dish you can choose. For curries, all curry pastes are made from scratch.
What ingredients and equipment will be needed?
When you book in I will email you an ingredients list (and substitutes) for the dish you choose. Most Thai ingredients are fairly easy to source at supermarkets or online. There is no specialist equipment required.
How do I book an online class?
Please contact us to book your class!