Online Thai Cooking Classes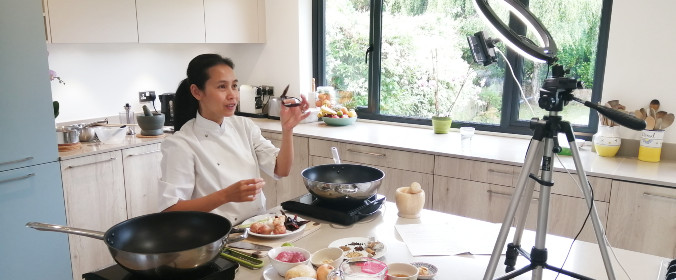 Join me for a virtual Thai cooking class and learn the secrets of authentic Thai food without needing to leave your home!
About the classes - approach and style
Classes are held using Zoom so that they can be fully interactive.
Each class covers learning 1-2 Thai dishes and your class will start with an introduction, the ingredients and key flavours in Thai cooking - sweet, sour, salty and spicy.
We will cook step by step together so that I can guide you through each stage of preparation and cooking. There will be time to ask questions and I will send you the recipes in advance.
There is no need to have any previous experience, just a love of food and a willingness to experiment!
How many people can join the class and how much does it cost?
Classes can be on a 1 to 1 basis or for a group of friends / family / colleagues who would like to cook together, wherever in the world you are!

1 to 1 class (1 Zoom connection*):
1 dish = £55
2 dishes = £75
2 or more Zoom connections*:
1 dish = £30 per connection
2 dishes = £40 per connection
*Each Zoom connection can have up to 2 people.
When are classes are how long is each class?
Classes can be scheduled on weekdays or weekends. A 1 dish class will last about 1 hour 15 minutes and a 2 dish class will last about 2 hours.
What dishes can be chosen?
Here is the menu for our online classes:
Chicken Satay
Thai fish cakes
Dim Sum - pork / prawns / veggie
Thai spicy salad - beef / seafood / veggie
Tom Yum soup - chicken / prawns / veggie
Coconut soup - chicken / prawns / veggie
Green curry - chicken / seafood / veggie
Stir fry with ginger - chicken / prawns / vegan mince
Stir fry with cashew nuts - chicken / prawns / tofu
Pad Thai noodles - chicken / prawns / tofu
Egg / veggie fried rice
Mango with sweet sticky rice
What ingredients and equipment will be needed?
When you book in we will email you a recipe sheet for your dish(es) including a list of equipment required and ingredients. Most Thai ingredients are fairly easy to source at supermarkets or online. There is no specialist equipment required.
How do I book an online class?
Please contact us to book your class!