Open Thai Cooking Classes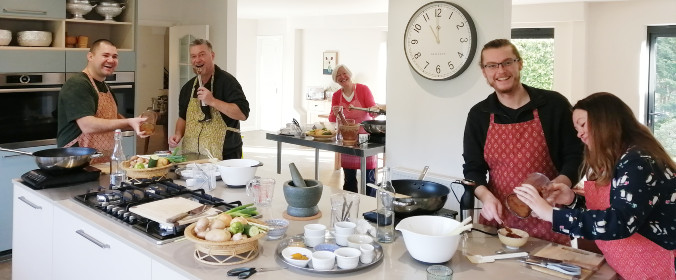 Join a small group, meet new people and have fun while learning the secrets of authentic Thai food - from authentic Thai chefs!
What:
Half day (3.5 hours) hands-on cooking class learning to cook authentic Thai dishes
Group size:
Join a small group of up to 8 people
Where:
Farnham, Surrey (20 mins from Guildford)
When:
Fridays and Saturdays - see our Class Calendar for dates, availability and menus
Price:
£99 per person. Gift vouchers also available
About the classes - approach and style
Classes are hands on and practical so that by the end of the class you will be able to prepare and cook the dishes at home. Rather than a cooking demonstration, you will be fully involved in the prep and cooking! Classes are intended to be relaxed and fun, reflecting the Thai approach to life.
Thai cooking is extremely flexible and, although you will be given recipes, the emphasis is on understanding the ingredients and flavours and using your senses to make adjustments while you cook.
Your class starts with an introduction to Thai ingredients (and substitutes) and the key flavours in Thai cooking - sweet, sour, salty and spicy. Through the class and an 'active tasting' approach, you will learn how to create these flavours and, importantly, how to balance them.
There is no need to have any previous cooking experience, just a love of food and a willingness to experiment!
The dishes you will learn to cook
In each class 3 dishes will be covered as well as the pastes and sauces that go with them. For curry dishes, all curry pastes are made from scratch.
See our Class Calendar for dates and menus.
What's included
Fully hands on experience in a small group
Tuition from authentic, friendly and knowledgeable Thai chefs
All ingredients - the ingredients used in the class are always high quality and where possible locally sourced. Although we use some specialist Thai ingredients, we also adapt to ingredients available in the UK so that you can re-create the dishes at home
A set of recipes for your dishes
The dishes you cook to take home and enjoy as a meal
Donation to Cittaviveka, our local Buddhist Monastery in Chithurst
Notes
Participants must be a minimum of 14 years old
If you have any special dietary needs please contact us and we can discuss with you, it is not always possible to accommodate them but we will try our best
Changing the date of your class
Less than 1 week until your class date: no changes are allowed
1-2 weeks until your class date: 1 change is allowed for a fee of £20 per person
More than 2 weeks until your class date: 1 change is allowed at no charge, additional changes are allowed for a fee of £15 per change per person
If using a Gift Voucher you must keep within the validity period