Private Thai Cooking Classes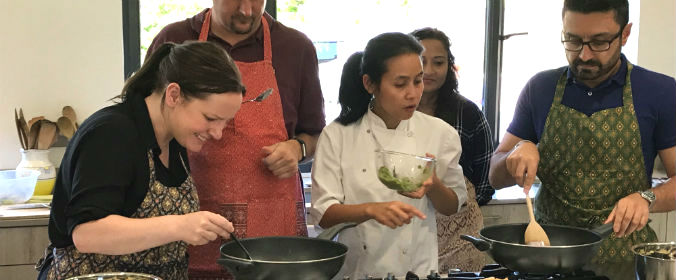 Enjoy the experience of a private Thai cooking class, where you choose the dishes you learn. You will learn how to make some authentic Thai dishes and can even enjoy your delicious handiwork as a meal!
This is suitable for individuals who would like a one to one class or for private groups. If you would prefer to join a group of others please see our Open classes.
Classes can run in the daytime or evening (on weekdays if less than 4 people, or weekends are also possible for groups of 4 or more) and last from 2.5 hours up to a full day. You can come to our location in Farnham or have a private class in your own home or venue for an additional fee.
About the classes - approach and style
Classes are hands on and practical so that by the end of the class you will be able to prepare and cook the dishes at home. Rather than a cooking demonstration, you will be doing most of the prep and all the cooking! Classes are intended to be relaxed and fun, reflecting the Thai approach to life
Thai cooking is extremely flexible and, although you will be given recipes, the emphasis is on understanding the ingredients and flavours and using your senses to make adjustments while you cook.
Your class starts with an introduction to Thai ingredients (and substitutes) and the key flavours in Thai cooking - sweet, sour, salty and spicy. Through the class and an 'active tasting' approach, you will learn how to create these flavours and, importantly, how to balance them.
There is no need to have any previous cooking experience, just a love of food and a willingness to experiment!
The dishes you will learn to cook - our menu
You can choose the dishes you learn and we can provide recommendations if you need any help choosing. Our most popular options are listed in our private class menu - we can cover almost all Thai dishes so let us know if there is something you would like to learn that is not listed!
Prices
The prices below are for a half day class learning 2-3 dishes. You can also add on extra dishes, up to 6 dishes in one day. A full day class would normally run from 10am-4pm and cover 5-6 dishes.
| | | |
| --- | --- | --- |
| Price per person | 2 dish (2.5 hours) | 3 dish (3.5 hours) |
| 1 to 1 | n/a | £250 |
| 2 person | n/a | £149 |
| 3-4 person | n/a | £115 |
| 5-8 person | £75 | £95 |
| 9 person + | £69 | £89 |
Family discount - we are pleased to give 20% off the prices above for children attending who are under 18.
What's included
A completely tailored private class
Fully hands on experience
Tuition from our authentic, friendly and knowledgeable Thai cooks
All ingredients - the ingredients used in the class are always high quality and where possible locally sourced. Although we use some specialist Thai ingredients, we also adapt to ingredients available in the UK so that you can re-create the dishes at home
A set of recipes for your dishes
The dishes you cook to enjoy at the end of the class or take home (enough for a meal)
Donation to Cittaviveka, our local Buddhist Monastery in Chithurst
Classes at your home / venue
It is also possible to have the experience of a private class in your own home or venue, for individuals or groups. One of our Thai cooks will travel to your location and bring all the ingredients and specialist equipment with them. This can be a really fun way to combine learning to cook Thai food, eating some delicious Thai dishes, and perhaps even a glass or two of wine, all in the comfort of your own venue or home!
There is an additional charge for travel time and costs - please contact us for a quote.