Weddings and events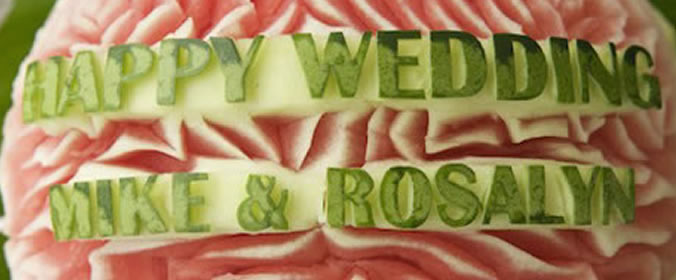 Thai food is an increasingly popular choice for weddings and events, full of amazing flavours and colours.
We cater for weddings and events up to 150 guests and can provide a range of options from a cooking team only to a full service event.
Paya Thai wedding packages
You can choose any of our catering packages detailed on our
Thai catering page
from £25 per head, or our all inclusive Royal Thai wedding package, which is £55 per head and includes the following:
Menu and service style provided:
Canapés - selection of 4 Thai canapés - served with drinks
Main course - selection of 4 Thai main courses with Thai fragrant jasmine rice - served by our waiters from a central buffet
Dessert - 1 dessert - served to the tables
Coffee - served to the tables
Other services provided:
Front of house manager
Waiters to serve and clear
Carved watermelon featuring the bride and groom's names
Cutting of the cake
Linens, crockery, cutlery, glassware (for the meal)
Menu cards
Optional extras (can be provided at additional cost):
Hire of tables and chairs (we don't include this as standard as some venues will provide them)
Hire of glassware and bar equipment for bar after the meal
Bar staff / manager
Thai catering menu
Please see our catering menu for our delicious selection of Thai food.
We cover locations in London (not Central or East), Hampshire, Surrey, Kent, Berkshire and Sussex - please contact us to check if we cover your location.
If you are having your wedding at an outside venue please check with them if there are any restrictions on the caterers that can be used as many venues have a list of preferred caterers that they will only work with.
What our clients say
"I just wanted to thank you for all your help. Your end was the only thing we did not have to worry or stress about as we knew you had it covered. All my friends have raved about the canapés and food: the fact that some went up for thirds says a lot! They also reported that it was the best wedding food they've ever had. I also wanted to praise your attention to detail. Although I knew that already. Please send my feedback to your staff who were all excellent, attentive, and polite. I thought the bar was fabulous - very professional. Overall, we couldn't have pulled it off without you...." Read more reviews
Contact us
Please contact us if you are interested in Thai catering for your wedding or event and we will talk everything through with you and give you a quote.