Corporate Events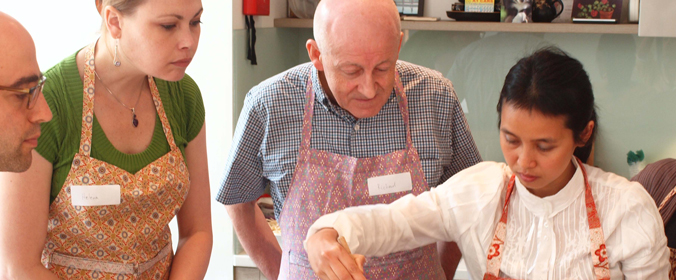 We offer Thai cooking classes (details below), Thai cooking demonstrations and Thai food tastings / photo shoots for a wide variety of corporate clients.
Events are run at our location in Farnham (near Guildford) or at a venue of your choice.
To discuss your requirements and receive a quote please contact us.
Corporate events
Team building / away days
Cooking classes
Cooking demonstrations
Food tasting
Photo shoots
Marketing events
Our corporate clients include: Barratt Homes, Belmond Travel, Creston, eNett, Lindt, Sharwoods, The Stopgap Group, Virgin Atlantic Airways.
"Excellent service from Paya Thai - very accommodating for our corporate offsite with 8 executives. Good fun, professional and an excellent team building activity. Food was great - service was fab! Thank you!" Virgin Atlantic Airways
Corporate cooking classes
Classes are hands on and practical. Rather than a cooking demonstration, you will be doing most of the prep and all the cooking! Classes are intended to be relaxed and fun, reflecting the Thai approach to life.
Your team can choose the dishes they learn and at the end of the class there will be enough food for a meal so it combines a really fun and interactive event with also providing a delicious lunch or dinner!
Your class starts with an introduction to Thai ingredients (and substitutes) and the key flavours in Thai cooking - sweet, sour, salty and spicy. Through the class and an 'active tasting' approach, you will learn how to create these flavours and, importantly, how to balance them.
There is no need for team members to have any previous cooking experience, just a love of food and a willingness to experiment!

For more information, menus, prices and what's included, please see our Private Classes page.